I left my heart in San Francisco a couple years ago, so we decided to go looking for it.
John wandered off to see if it was at a happy ending massage parlor, while the rest of us searched for it in Golden Gate Park.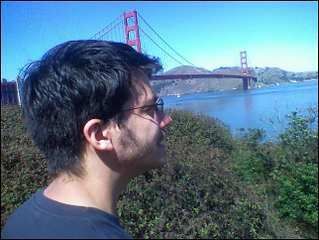 It wasn't there. John didn't have any luck either, so he decided to come meet us at Golden Gate Park. However, we left and met up with Steve and Jamie (who had parted ways with us after the gig in Sacramento) and headed up to "hippie hill," as it is appropriately called.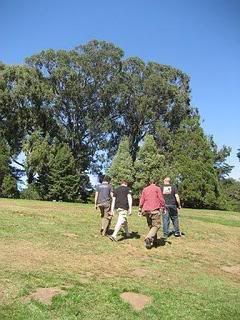 As we walked up the hill we were serenaded by Future John Dorocki, an old man sitting under a tree playing weird ambient music on a synthesizer. We all had a good laugh at John's expense, especially since he was on his way to meet us at Golden Gate Park, and we weren't there.
It was quite a lovely day outside, and we baked in the hot sun. I soon freaked out when an enormous, scary-looking dog started heading up the hill straight for me in slow motion. I was quite certain it was going to kill me. The owner approached and told us that he wanted to go hang out with his buddies, but that their dog and his don't get along, so he handed me the leash and told me to watch his dog for a while. I cannot accurately convey the terror and bewilderment I felt at the time, so let me just say that I'm glad I hadn't eaten breakfast, or I most certainly would have shat myself. I handed the leash off to Jamie and cautiously backed away from the demon spawn. John called and said he was coming to meet us at hippie hill, so we decided to venture off to Amoeba records, through an obstacle course of burned-out zombies, dealers and freaks. "It's a beautiful day out here, isn't it?" some hippie girl asked us along the way, and that might have scared me even more than the dog. Hippies have always scared the shit out of me, much in the same way that some people are terrified of clowns. I'm all for peace and love, but please get your head out of your asses, hippies.
Anyhow, we made it to Amoeba records, and wandered around like retards at the zoo for an hour or so. Somehow I managed to find a few good cds for cheap, Barry Black (a mostly instrumental cd by Eric Bachmann), Palace Music, and Stephen Malkmus & The Jicks. John called again and we decided that we should probably meet up with him at some point, so we picked him up on the street somewhere. At this point we were listening to Barry Black and it was blowing my mind like a billion dollar hooker. Best two bucks I ever spent. We headed for the beach, where John started wandering off again.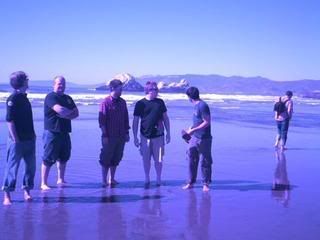 Unfortunately, he came back.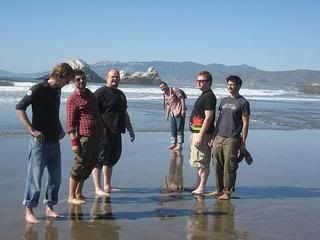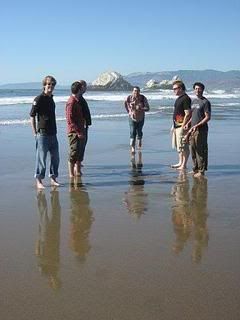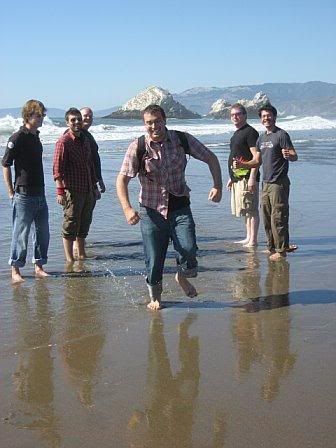 "Say Mike, that was pretty lame was John just did right there," Steve said.
"You mean that thing where he charged right through us and struck a really dumb pose?" Mike asked.
"Yeah. Let's drown him," Steve replied.
"Okay," said Mike.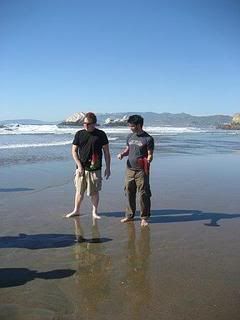 And so they did. Boris looked on, visibly upset, so I walked over to console him. I explained to him that this was necessary for the good of the band, and ultimately for the best.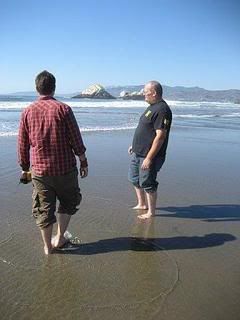 Boris didn't take it very well, and weeped for his fallen Team D-bagger.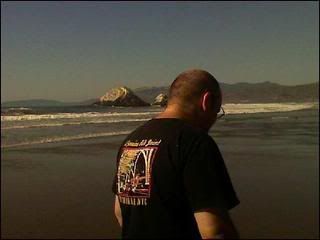 We decided it would be best to photograph this sign, in case anyone investigated John's disappearance, so we could claim it must have been an accident.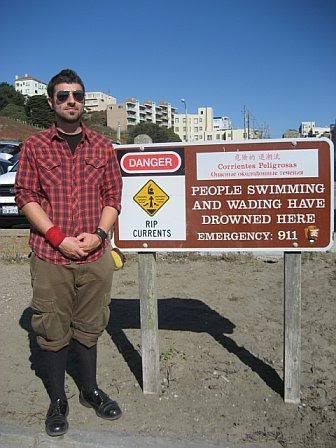 We headed back to the hotel, and Mike parked the car at a meter but didn't have any change. "Does it take nickles?" Boris asked. "Dick Nickles?" I replied, confused, "Who's Dick Nickles?" "Dick Nickles?" Boris asked, equally confused. "Dick Nickles," I said. This went on for a while, and earned Boris the new nickname of Dick Nickles. Then we went out for Chinese food. Eventually the sun set, and it was time to do what the Americans call "rock and roll."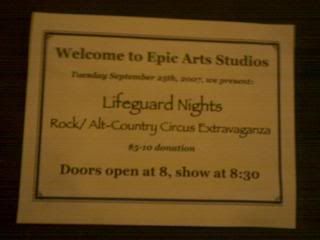 Epic Arts was an interesting venue, as it was basically a Victorian house that had been converted into an art space, with the bands playing in the living room. It was a pretty hot place, and I mean that literally, as there was very little ventilation and the manager baking brownies didn't help the situation. But lifeguards can take the heat.
Before the show I was walking around and started talking to some dude. I asked him if he worked at Epic Arts, he said no. I asked him if he was in the other band, he said no. I asked him if he was there to see the other band, and he said no, that he was friends with us on myspace and was there to see us. I thought he was joking, but apparently he was serious. I was rendered speechless. I mean, that's what you hope for when you go on tour, but that was the first time it ever happened to me. Hell, my old band The Hungry Housewives went on tour for a month and we didn't meet any fans. Or make any fans. In fact I think it's safe to say we only made enemies. But anyway, his name was Mark and I give him what homeboys call "mad props." Another myspace buddy showed up, Diane from the band Pete's Dragon, and it was great to finally meet her as well. Also in attendance were Mark Antinoro, Doust, and the infamous Nick Oliver, who I turned the tide on and preemptively started heckling.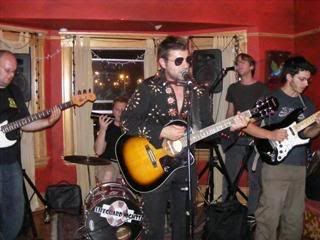 It was a fun show. As the band we played with, Leilujh, wrote on their website,
"Lifeguard Nights is an incredibly likeable band from New York City who were great fun to watch. The highlight of their set had to have been the drummer telling their super-stoned keyboard player 'Man, you gotta stop doing that,' when the keyboard player sat down on the couch, took off his shoes, and started crawling around and beating on the drums."
The keyboard player, of course, was John Dorocki, who crawled out of the ocean like Swamp Thing, just to disrupt our set. Like Seagal, he's hard to kill, marked for death and above the law. Out for justice and half past dead on deadly ground. He's a glimmer man, that one. A mercenary for justice, out of reach and into the sun. The prince of pistols, you might say.
I broke my "no scotch rule" during this show, and downing a whole pint didn't cool the place off at all. I was forced to disrobe.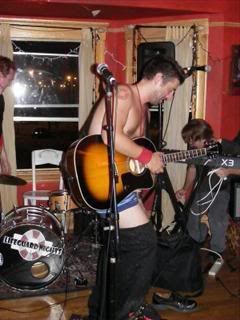 Afterwards, I remembered why I instituted a "no scotch rule" in the first place, when I got back to the hotel and proceeded to vomit every twenty minutes for 8 hours straight. Good times.
Oh, and we never found my heart.
Waah.