We all woke up pretty well hungover after the birthday festivities, with a long drive to Sacramento ahead of us, so that was not awesome. Also not awesome: the fact that we had to head inland and leave the coastline and the redwoods behind, so we decided to park our matching Mercury Mariners (www.mercurymariner.com) for one last stroll through nature. Yeah that's right, Mercury Mariners (www.mercurymariner.com). While all the hip indie bands are traveling around with their environmentally friendly bio-diesel vehicles, we rented two SUV's. Take that, hipsters. Take that, Earth, you old bastard.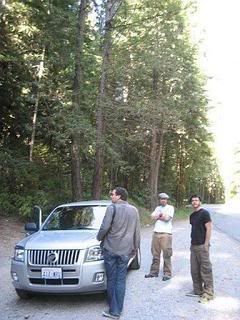 Boris and I found a nice place to have a discussion on the global economy as it relates to foreign policy and the strong-arm tactics employed by the American dictatorship. At least I think that's what we talked about. It was either that or poo. Maybe it was poo. I can't remember.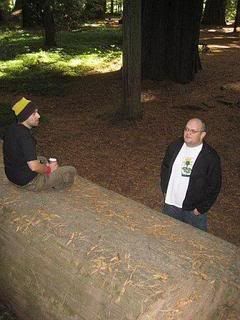 Drew Brady makes his first appearance in the tour blog in this next photo, as he and I answer the age old existential question, "If a tree falls in the forest, does anybody give a shit?" Meanwhile, Mike Steve and Boris were all distracted by a hungry bear that was wandering towards us in search of food.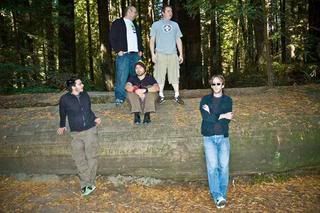 Bravely, Mike Biskup beat off the bear with a stick. Hmmm...there's gotta be a better way to say that.
Before we left, Steve swore that he could rip a tree in half with his mind if he concentrated hard enough. We didn't believe him, so he set out to prove us wrong.
At first we thought he was just constipated, and then this happened.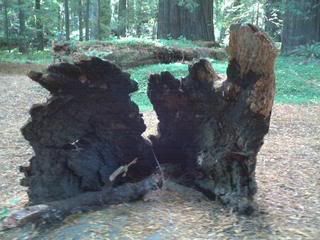 We were pretty fucking blown away by the power of Steve's mind. Remember that in case you're thinking of crossing him. Anyhow, we hit the road and headed for Sacramento. Team D-Bag lived up to their name by giving us the scenic route directions, while they stopped off at a Vineyard and took the direct route.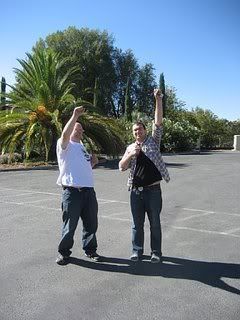 The "scenic route", by the way, was a one-lane road under construction, which had us stopped dead for a good 45 minutes while we waited for the west-bound cars to pass. Thanks to the scenic route, Mike Biskup nearly died of starvation, leaving me to nurse him back to health at the venue.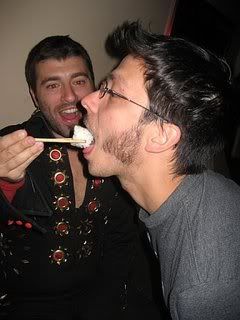 Then we played pool. Everybody won.
As for the show...um...I'm not gonna lie to ya, Sacramento on a Monday night? Not all that wild. The stage was nice and big though.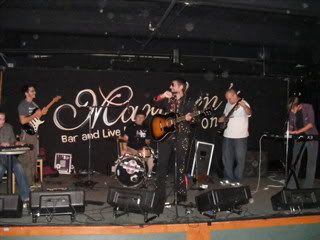 The highlight of the show was when Steve used his mind powers to make his toms disappear.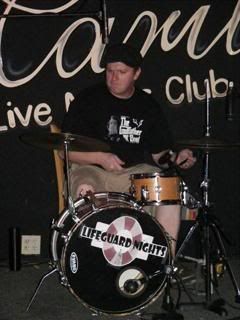 Then we went to bed.