Swimmers,
Greetings, long time no blog! As I'm sure you haven't noticed, I put the making of "Calm Down, Chief!" on the backburner, as I assembled a band and began gigging frequently these past few months as Lifeguard Nights. It's been a blast, and there are many great things to report from Lifeguard HQ.
First of all, on July 15th we went into Retromedia Studios in Red Bank, NJ and recorded basic tracks for 13 songs with our good buddy/engineer Adam Vaccarelli. Our intention was to try to capture our raw, live energy, with minimal editing and over-dubbing. With all of the over-produced crap out there today (bands spending months, or even years, in the studio wasting thousands of dollars doing take after take of each little vocal line, guitar line, etc, etc) I wanted to show that we could go in there, record live, and kick ass...and I think we did. All of the original tracks made the final cut, there were only a couple of minor edits, and vocal harmonies were overdubbed out of necessity. We mixed and mastered the album, shot the artwork and designed the packaging over the course of a week, and had the final product in our hands exactly one month after we had gone into the studio.
Ta-da!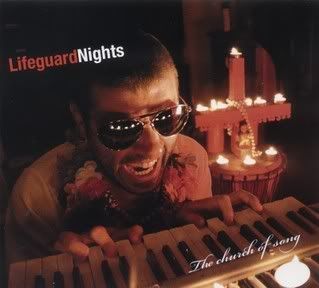 "The Church of Song" is also available on Headshop Records, or from Cd Baby, or Digstation, and soon, iTunes!
"Headshop Records" you ask?
Yes indeed! While at the studio, our tracks caught the ear of Headshop Records (www.headshoprecords.com), who are putting "The Church of Song" out for us on their label! We are incredibly excited to be a part of their roster and feel that this is the beginning of a wonderful partnership!
We celebrated these accomplishments with a packed, sold-out show at the Mercury Lounge this past Friday, August 17th, with our new friends Jupiter One, and old friends The Bosch, who were both also celebrating their cd release parties. It was an amazing night all around, the highlight of which was a rousing rendition of "Over It", which included a number of our friends and fans jumping up on stage with us and singing along. It was also the debut performance of trumpeteer Brad Clymer with the band, a great new addition! (Plus it was my mom's first time seeing me perform, and she didn't disown me, so that was good too)
Finally, I somehow managed to convince most of the band to join me on a tour of the West Coast. Yes, we're leaving September 21st, playing Seattle that night, then heading down the coast and winding up in Vegas on the 29th, then flying home. For specific gig dates/locations, check out www.myspace.com/lifeguardnights
If you live in any of those cities, and/or have friends out there, support the team!
I'll also be doing my best to update this site with fun stuff from the road, so check back often!
It's lucky '07 for lifeguard nights!
safe swimming,
Vincent